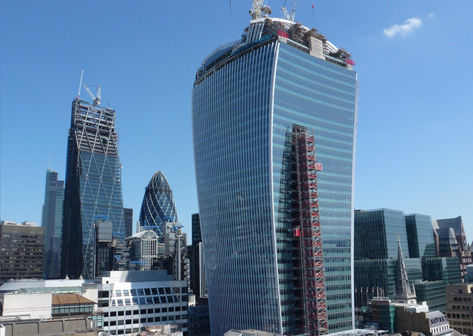 Facts
15000 tonnes rebar
Height: 160 metres (525ft),
5th tallest building in London
34 floors, 62,100 square metres floor space
Nicknamed The Walkie-Talkie because of its distinctive shape, the postmoderen style tower at 20 Fenchurch Street is a commercial skyscrapper in the historic City of London financial district.
Designed by architect Rafael Viñoly and costing over £200 million the building features a highly distinctive top-heavy form which appears to burst upward and outward. The unusual shape of design is intended to maximise floor space towards the top of the building, where rent is typically higher.
Initial piling and groundworks started in early 2009 with basement works on the tower commencing in 2011. The main concrete core was topped out in Spring 2012 and by mid summer the structural steelwork was under way around the core with construction completed in 2014.
A unique 'sky garden' (described as the capitals highest park) spanning the top three floors and complete with large viewing deck, terrace, restaurants and bars was opened in January 2015.
The 34-storey building is 160 m (525 ft) tall, making it the fifth-tallest building in the City of London.
Designing and constructing this structure was a unique challenge and bought together a winning team of designers and architect, developers, engineers, contractors and suppliers that included BRC.
Design-wise the main challenge was how to structurally balance the building with such an unusual top heavy shape. To create this shape the steelwork is angled to approximate the curvature of the façade. Except in areas of high curvature the faceting of columns generally occurs at intervals of every four storeys balancing architectural expression with increasing complexity of steel fit.
The concrete core provides the frame with its overall strength and stability, whilst at the highest elevations structural fins bolster the overall structural strength and also support the glazing over the top and sides of the Sky Garden enclosure.
With each floor having a unique structural layout an important planning aspect was the development of extensive modelling procedures undertaken by the projects structural engineer. In creating a master geometry 3D model, this allowed the architect the flexibility to develop the final shape and utilise the double and triple –glazed aluminium cladding on its distinctive exterior, as well as the final column positions and framing solutions.
This model was developed yet further to create a more comprehensive BIM model that was then used by the entire project team and allowed them to work out and predict the entire construction sequence and what the steel programme would entail during the tender stage.
Through working on these types of projects BRC understand the virtues of how modelling can assistance our customers in both design and programme sequencing and are able to offer a technical solutions service to make cost savings.