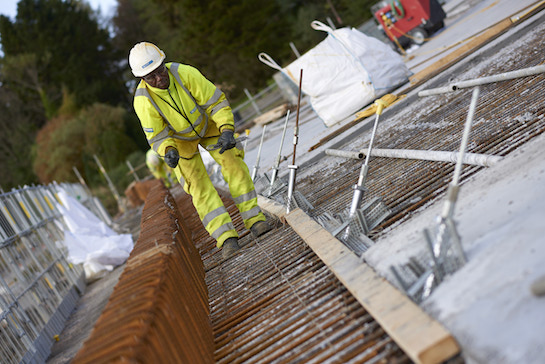 The 58km long Aberdeen Western Peripheral Route/Balmedie-Tipperty (AWPR/B-T) project is a major infrastructure development on the outskirts of Aberdeen and one of the largest construction projects to be built this in Scotland. When complete, the AWPR/B-T will help to reduce congestion, cut journey times, improve safety and lower pollution in Aberdeen city centre.
The project is being delivered by Transport Scotland on behalf of the Scottish Government and in partnership with Aberdeen City Council and Aberdeenshire Council. Aberdeen Roads Limited (Balfour Beatty Investments Limited, Carillion Private Finance (Transport) Limited and Galliford Try Investments Limited) was awarded the contract to build the AWPR/B-T in December 2014. It has appointed AWPR Construction Joint Venture (CJV), comprising of Balfour Beatty, Morrison Construction (Galliford Try) and Carillion to construct the road, which has an opening date scheduled for winter 2017/18.
Aberdeen is sandwiched between the River Dee and River Don and lies at the intersection of several major roads, including the A90 and A96 trunk roads which historically channel much of the heavy traffic into the city centre. At peak times of the day, up to 22,000 vehicles can travel along some sections. The need for an upgraded road had been mooted as far back as 1952.
Most of the new road will be two-lane dual carriageway, with three-lane dual carriageway operating over some shorter sections helping the flow of both long-distance traffic as well as facilitating peripheral, shorter journeys.
The new road includes:33 000 tonnes of rebar
58 km of new road and 12 junctions
40km of new side roads and 30km of access tracks
75 bridges including 2 major crossings over the River Dee and the River Don
A bridge over the Aberdeen-Inverness rail line
80 culverts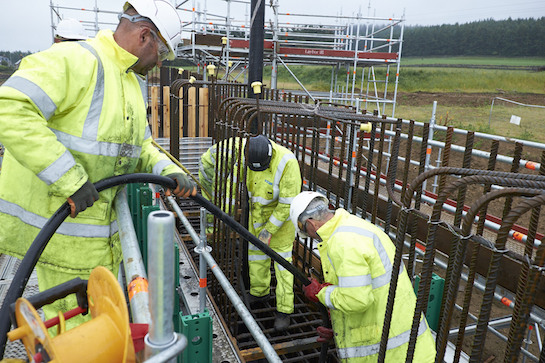 BRC was delighted to be awarded the supply of rebar and have always been proud to be associated with this prestigious project. As a close partner with the CJV, we ensure that as part of the supply chain we embrace the required best practices being managed by the site team. Sensitivity to the environmental considerations are recognised as a key to the success of the project delivery and we work closely with AWPR Construction Joint Venture on programmed deliveries to ensure every effort is made to mitigate any impact and disturbance on the area and communities whilst the project is under construction.
We are also happy that with our responsible sourcing and recycling credentials we can fulfill criteria set by the CJV and help meet their sustainability targets.
In addition to road users enjoying better journey time reliability and reduced congestion, other tangible benefits such enhanced market opportunities from faster freight links will benefit the business community and promote economic growth in the area. The AWPR/B-T project is expected to bring in an additional £6 billion to the north-east economy and create around 14,000 jobs over the next 30 years.