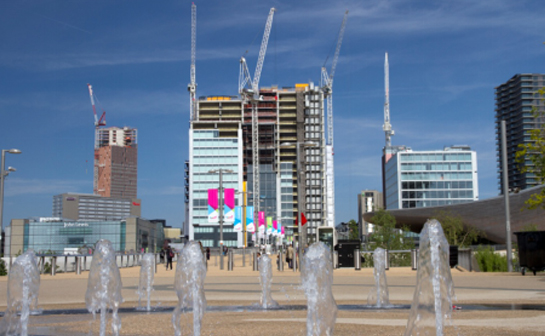 Stratford and the surrounding area has seen major regeneration in recent years. Much of this was begun in earnest leading up to the 2012 Olympic Games, and has continued since, making this locality an ever more important business district within the capital. BRC has supplied a number of prestigious projects in the area including the former Athletes Village which now provides thousands of new homes alongside the other growing developments.
BRC continues to have an association with the area and the uninterrupted revitalisation of this part of east London through ongoing and new projects such as The International Quarter, a huge new office park being built next to the London Aquatics Centre and on the periphery of the Queen Elizabeth Park.
The International Quarter, is a total of 4m sq ft, and is one of the largest new commercial developments in Europe. Once completed this mixed use thriving business district will support 25,000 people working each day in London's newest metropolitan area.
Two major structures supplied by BRC form the centrepiece enclosure around an area known as International Square. Building S5 is a 20 storey high block providing 515, 000 sq ft of office space, neighbouring property Building S6 rises to 11 storeys providing a further 265,000 sq ft of office space.
BRC steel is manufactured to BES 6001 standards from a sustainable and responsibly sourced supply being 100% UK made and from a 98% recycled content. This has helped support the vision of The International Quarter developers to design, deliver and operate the most sustainable office development in London.